Free UK Delivery
- On Orders over £35
Lowest Price Guaranteed
Always
Delivery & Dispatch
- 6 Days a Week
Hayati® Miniature
The Hayati Miniature 600 Pod kits are to be used with the Hayati® Miniature 600 Pods. These pods come pre-filled and provide a convenient and enjoyable vaping experience, making them an ideal choice for vapers seeking simplicity and a range of flavors.

We found - items for you!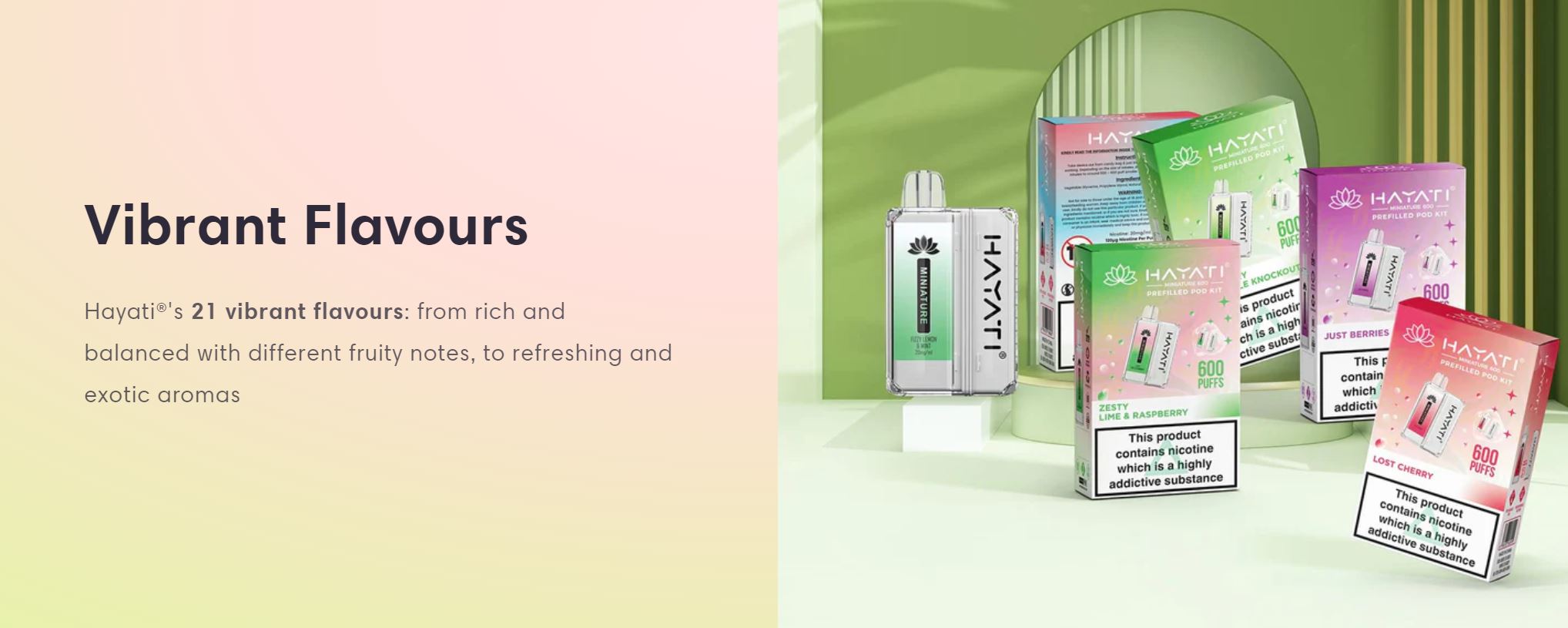 Available Flavours
Blue Raspberry – A new take on the classic flavour. A sweet and tangy flavour which mixes sweet blueberry with citrus.
Blueberry Cherry Cranberry – Blueberry, tart cherries, and tangy cranberries join forces to make a new taste sensation.
Double Apple – Combines the soft taste of red apples with the sharp flavour of green ones. Ideal for lovers of fruit-flavoured vapes.
Fizzy Lemon & Mint – Wake up your tastebuds with this refreshing blend of zesty lemon and cool mint.
Forest Berries – A juicy mix of berry flavours, including strawberry, blackberry and raspberry. Ideal for fans of sweeter vapes.
Fresh Cola – An iconic flavour, for good reason. A refreshing cola vape with a cool and fizzy finish.
Grape – Introduce yourself to this juicy and sweet grape flavour. A must-have for sweet tooths.
Gummy Bears – Revisit your childhood with this fun and fruity flavour experience.
Kiwi & Lime – Tangy and tropical, this flavour mixes the sweet taste of summer with the sharpness of lime.
Lemon Lime – A zesty and refreshing combination of tart lemon and tangy lime, perfect for vapers who love citrus sweets.
Lost Cherry – A bold and fruity cherry flavour, perfect for those who prefer a stronger, more intense taste.
Peach Ice – A summery peach vape, with a cool aftertaste to give you that extra throat-hit feel.
Pomegranate Grape – A delicious sensation of pomegranate and juicy grape flavours.
Raspberry Lime – A tangy and sweet combination of rich raspberry and zesty lime.
Rose Lychee – A rich flavour, which combines sweet lychee with the unique taste of rose petals.
Strawberry & Banana – Indulge in this sweet blend of creamy banana and sweet strawberry.
Strawberry & Mint – The sweet taste of strawberry meets the cool finish of mint, a refreshing flavour perfect for lovers of strawberry chewing gum.
Strawberry Raspberry Ice – Two classic berry flavours, one sweet vaping experience. Summery strawberries and raspberries come together with a cool menthol-style finish.
Summer – Fruity and refreshing, combining all your favourite tastes of summer into one compact experience.
Tropical Mango – Experience a tropical paradise with this rich and sweet mango flavour.
Watermelon Ice – A great mix of sweet and juicy watermelon with cool tones.