Free UK Delivery
- On Orders over £35
Lowest Price Guaranteed
Always
Delivery & Dispatch
- 6 Days a Week
Lost Mary BM600 Disposable Vapes
We found - items for you!
The Elf Bar Lost Mary BM600 disposable vape kit has a 360mAh battery that can provide up to 600 puffs. It is available in 34 delicious flavours, best place to buy bulk disposable vapes. Choose from a variety of fruity tastes to sweet candy, including Blueberry Sour Raspberry and Blue Razz Lemonade. It comes pre-filled with 2ml of nic salt. This has a 20mg strength which provides enough nicotine even for heavy smokers, while still delivering a smooth throat hit.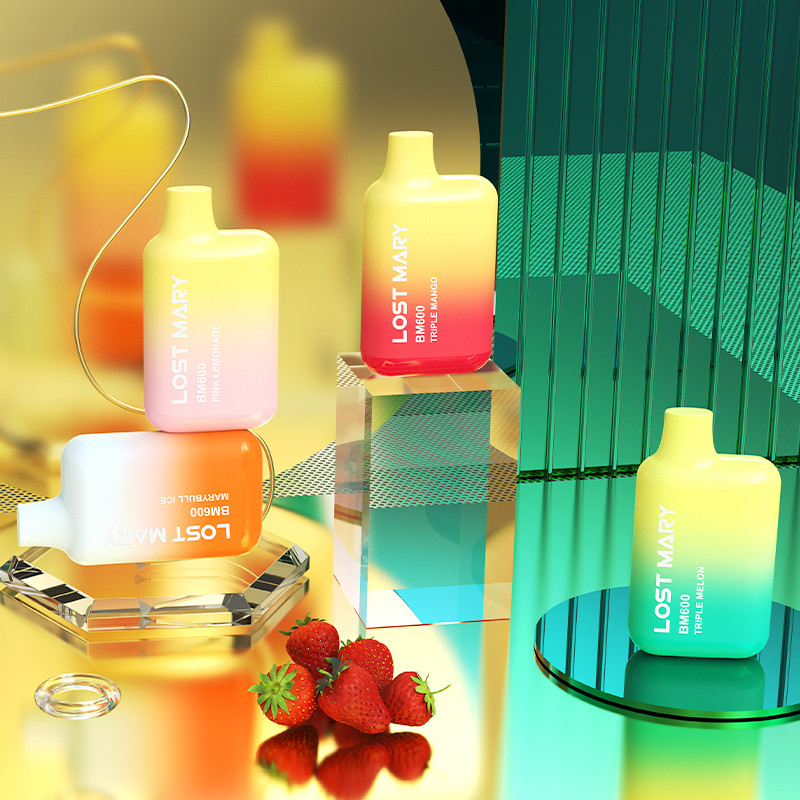 The Lost Mary BM600 is simple and easy to use. Just remove the disposable vape from its packaging and take a puff. These disposables are draw-activated and don't require a fire button. There is no need to charge or fill the tanks.
Choose from 34 Flavours:
Bamboo Aloe: Sweet, Floral
Blackcurrant Apple: Blackcurrant, Apple
Blueberry: Blueberries
Blue Razz Cherry Cherries, Lemonade
Blue Razz Ice: Blueberries, Menthol
Blueberry Sour Raspberry: Blueberries, Raspberries, Sherbet
Cherry Ice: Cherries, Menthol
Cherry Peach Lemonade: Peaches, Cherries, Lemonade
Cola: Cola
Cotton Candy Ice: Cotton Candy, Menthol
Double Apple: Green & Red Apples
Grape: Grapes
Juicy Peach: Peaches
Kiwi Passionfruit Guava: Kiwi, Passion fruit, Guava
Mad Blue: Raspberries, Blueberries and Blackberries.
Marybull Ice: Energy drink, Menthol
Maryjack Kisses: Liquorice, Aniseed
Menthol: Menthol
Mint Tobacco: Mint, Tobacco
Orange Gummy Bear: Candy, Orange
Pineapple Ice: Pineapples, Menthol
Pink Lemonade: Red Berries, Lemonade
Pink Grapefruit: Grapefruit
Pink Senorita: Orange, Lemon, Red Berries
Red Apple Ice: Red Apples, Menthol
Sakura Grape: Grape, Floral
Strawberry Kiwi: Strawberries, Kiwi
Strawberry Ice: Strawberries, Menthol
Triple Berry Ice: Mixed Berries, Menthol
Triple Mango: Mango
Triple Melon: Melon
VMT: Raspberries, Grapes, Blackcurrants
Watermelon Ice: Watermelon, Menthol
Watermelon Lemon: Watermelon, Lemonade
Features:

Internal battery
2 ml e-liquid capacity
20 mg/ml nicotine salt
Approximately 600 puffs
Draw activated
Box Contents:
1 x Lost Mary BM600
1 x User Manual