Free UK Delivery
- On Orders over £35
Lowest Price Guaranteed
Always
Delivery & Dispatch
- 6 Days a Week
SKE Crystal Bar Disposable Vapes
We found - items for you!
SKE Crystal Bar - The Premium Disposable Vape
Take an SKE Crystal Bar out of its box and you will immediately be struck by the unique design. Unlike the more generic brightly coloured plastic tubes that are so familiar to modern vapers the Crystal Vape is constructed from a multi-faceted, crystal-like material which catches and reflects the light. No other vape looks nearly as good as a Crystal Bar - but beauty is only skin deep and there is so much more to a Crystal Vape than its good looks. Each Crystal Bar vape is created to deliver a great nicotine hit, more like a Direct-Lung device than a Mouth-to-Lung vape – and there are thirty immensely satisfying flavours to choose from. The design of the device is also immensely practical, with real attention paid to those little details that make a vape easier to use. The solid metal base of the device makes it easy to stand your Crystal Vape upright. This allows the liquid to flow directly to the coil, which maximises the devices' lifespan.
Crystal Bars really are a fantastic introduction to the world of vaping. Their simple, single-use design means that they never need to be charged up, never have you to fiddling around trying to instal a new coil and never put you through the often messy and frustrating process of filling up the reservoir – all things required by more expensive refillable devices which can put novice vapers off. With a Crystal Bar all of those impediments are swept away, all you have to do is unwrap it, inhale and dispose of the device responsibly when you have finished with it. But we think that the biggest draw that the Crystal Bar has is the incredible range of flavours that are available. With flavours that are fruit, beverage, dessert and even tobacco based, you really are spoilt for choice!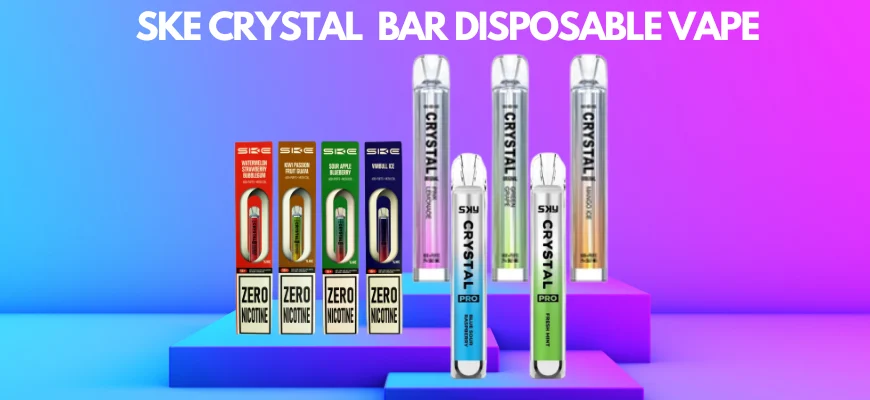 What are Crystal Bar Vapes?
Crystal Bar disposable vapes from SKE really are the perfect marriage of simplicity of use and stylish sophistication. The Crystal Vape is a disposable vaping device that offers a sleekly stylish design which always looks good in your hand, but their beauty is significantly more than just skin deep.
Crystal vapes from SKE are also beautifully simple to use. They are activated when the vaper inhales through the mouthpiece. This means that you will never have to fiddle with awkward power switches – using a crystal vape is quite literally as easy as breathing. This "draw activation" approach means that all you have to do is puff on the mouthpiece and you are good to go. Every Crystal Bar Vape has the capacity to deliver up to 600 puffs and the 2ml of 20mg nicotine salts liquid will deliver a satisfying nicotine hit in each one of those 600 puffs. This is a capacity which easily beats a pack of 20 old fashioned tobacco cigarettes – and all without the tars and toxins that tobacco inevitably brought with it.
This MTL, or "Mouth To Lung" experience is good not just because it makes the device easy to use. It also closely mimics the physical action of cigarette smoking which makes it perfect for anyone who is coming to vaping as a way of ending a smoking habit. Even better, while cigarettes generally taste only of tobacco and ash the Crystal bar vape boasts a range of thirty fantastic flavours, from apple to watermelon, via menthol, honey and tropical fruit. And yes, you can even get them in tobacco flavour if you are really finding it hard to step back from old fashioned cigarettes.
The sophisticated but easy to use, good looking and great tasing devices that make up the Crystal Bar range from SKE offer everything a vaper could ever need from a disposable vaping device. Why not try one now and discover a whole new world of satisfaction and flavour.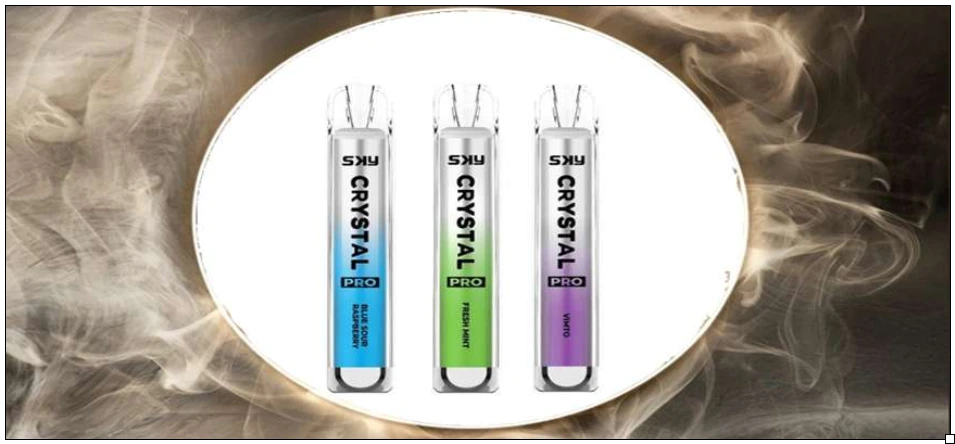 How many types of crystal vapes?
We have different models of crystal bars from the SKE and SKY brands. SKE Crystal 600, Crystal Bar Pro 600 by SKY, SKE Crystal One Amare, and Zero Nicotine SKE Crystal 600. The Crystal Bar range also offers a choice of flavours in a standard package that offers draw-activated mouth-to-lung vaping.
How much nicotine strength is in the SKE Crystal Disposable Vape?
The SKE Crystal Vape is available in two distinct nicotine levels. If you are looking for a really satisfying hit of nicotine then you would want to opt for the 20mg strength version, which arrives fully loaded with high quality nicotine salts and is the more than capable of satisfying any nicotine cravings you might be experiencing. But what if you are not a person who experiences nicotine cravings? Do not worry - the same great vaping experience is also available in a zero-nicotine version – the same fantastic Crystal Bar flavour but with 0mg of nicotine – making it perfect for social vapers who have no need of nicotine, either because they because they have already beaten them or because they have never smoked but want to enjoy the social side of vaping without exposing themselves to nicotine.
How many Crystal Vape Flavours are available at you?
There are so many Crystal Bar flavours that you might find it genuinely difficult to choose just one! There are almost too many great tasting flavour options for us to list them all here, let alone tell you how they taste, but we are going to give it a try. In alphabetical order the flavours menu is as follows:

As you can see, with such a dazzling array of flavours from fruit to beverages and beyond there is a Crystal Vape flavour to suit every taste and every mood. Perhaps you will find your favourite straight away, or perhaps you might decide to work your way through the menu and sample them all. Wither way we can promise you a deeply satisfying flavour experience.
How Long does a SKE Crystal Bar Last?
A Crystal Bar is good for around 600 individual puffs of vapour, but you may be wondering what that actually means in practice. We can say that generally 600 puffs is just a little more than you might expect to get out of a pack of 20 old fashioned tobacco cigarettes, which means that with normal to low use vapers can expect their SKE Crystal Bar to last them for between 2 and 4 days, although this will vary somewhat depending on how you use it.
If you are only using your Crystal Bar on "vape breaks" at work, with a few odd puffs here and there while you are on your commute, and then a few more in the evening when you get home, those 600 puffs will more than see you through a good couple of days' worth of steady vaping.
Heavier use, however, will see that timeframe shrink down to just about 24 hours, but when we talk about "heavier use" we are really talking about "Chain vaping". If your Crystal Bar is always in use every minute of every day, you will obviously going to deplete the device more rapidly – after all, 600 puffs is 600 puffs, the faster you take those puffs, the faster they will disappear.
If you use your Crystal Bar like a cigarette, however and you can comfortably expect up to four days of use, and that really does measure up favourably to most disposable devices that are currently available.